Summertime is here again and people are starting to wear their clothes a bit differently.  What are the trends packing wardrobes this summer?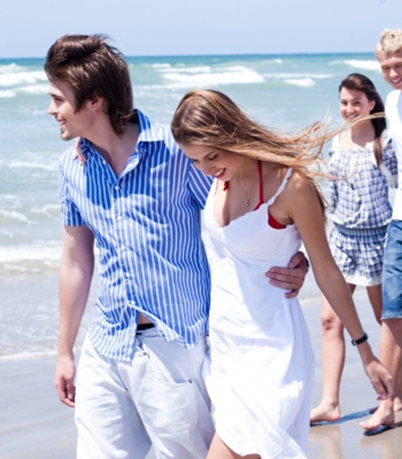 Colors
This spring was all about electrifying colors like Tangerine Tango.  Summer will be adding even more
hues to the mix, particularly soft blues and greens (mint is slated for a big comeback).  Yellows, whites and other light colors are also expected to be in abundance on the city streets.
Tip: Take a chance, and try some jeans that are not blue.
For Girls
Loose, flowing fabric is always a great look in the summer.  Or, if you like to go a little more formal, try a preppy, light-colored plaid look.
Take a look to the 90's for inspiration. Experts agree that big colors and retro accessories are the hot trends this summer.
For Guys
Blue is the color for this season, though don't go with navy.  Keep it light and easy.  For a little variety, mix it up with shorts and a blazer.
If you're the suit type, make sure to go for a more relaxed look.  It's summer time.  Light grays and crèmes are your best friends in the suit dept.
Special Tip: Keep an eye on the Italian Olympic team this summer. Armani is the team's official outfitter.  Ralph Lauren will be outfitting Team U.S.A.
Photo Credit: Photostock