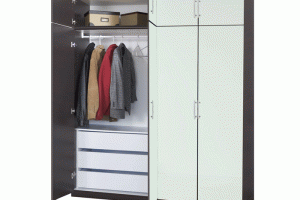 Have you ever wondered what you're going to do with all the hanging clothes that don't fit in your existing closet?
For a while you can just squeeze more and more of your wardrobe into the closet space available, but if you're anything like me your wardrobe will get bigger before it gets smaller.
You could get rid of your clothes, but that might not be the best way to go. Let's look at other options before we start doing anything drastic!
In order to keep your clothes, shoes and accessories safe, you're going to need more closet space.
Just Get More Closets
Now here's a fantastic idea! Except for one thing. I remember one time when I was a kid I accidentally put a hole through a wall. I turned out there was already another room over there.
OK, it might not be so easy to just punch more holes in the wall to create more closet space after all.
Free Standing Closets To The Rescue!
We've already solved this problem… with the free standing wardrobe closet. Whether you need something for a narrow space, or a more full featured wardrobe with doors, drawers and hangrods all over the place, we've got just the thing.
Check out all our wardrobes and see what we mean.