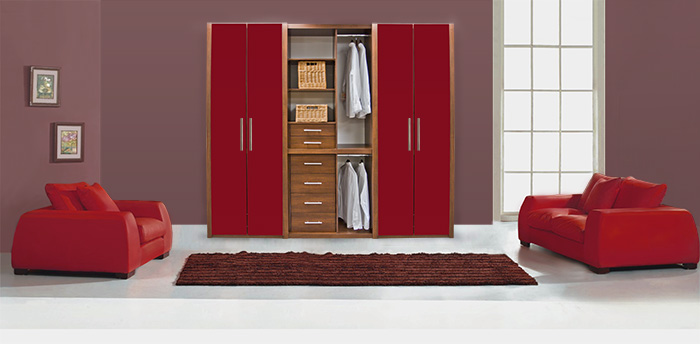 We primarily consider wardrobes to be bedroom furniture and storage towers for clothing storage.  But there's plenty of others places to put them and plenty of other things they could hold around the house.  Read on for some ideas on how to make the best of a wardrobe closet in several parts of your home.
Bedroom
Let's get the obvious out of the way, first.  While wardrobes are a great place to keep your clothes and fashion accessories, they can also be quite handy for storing pillows, linens and other bedroom essentials.
Living Room
While we usually leave living room and entertainment storage to our family brand Contempo Wall, a wardrobe closet could be plenty useful in the living room as well.  House a TV inside with the 455 Designer Wardrobe or use one of our wardrobes as a display case.
Hint: With LED Lights inside, these closets will shine like a million bucks.
Bathroom
Tired of walking to the hall or bedroom closets every time you need a new roll of toilet paper?  Keep a wardrobe in your bathroom to store supplies such as toothpaste, cotton swabs, towels, washcloths, soap, shampoo and more.
Garage
Need to keep your tools and gardening supplies organized?  Try a custom freestanding wardrobe closet.  Organize the interior with extra shelves/compartments to keep your all your tools and supplies stored neatly with easy accessibility.
There's a wide variety of uses for a wardrobe closet anywhere.  Where do you think you could use one?
Pictured Above: Designer Wardrobe Collection