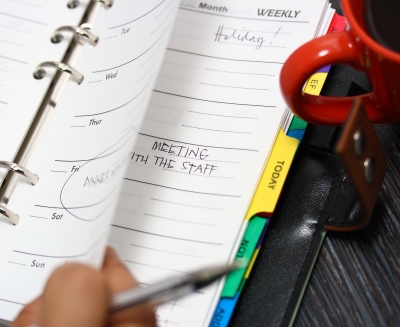 Clean out your clutter and get yourself back on track with these 5 habits of organized people.
Make a Place for Everything
Don't tag anything as miscellaneous.  Everything in your home should have a place, and if it doesn't, you should find time to make one.
Put Things Back
Making a place for something is a great start, but it will only matter if you get into the habit of putting things back where they belong.
Set Deadlines
Setting deadlines for yourself will help apply pressure to get things done on time.  After a while, these activities will hopefully become routines that you don't even need to remind yourself about.
Don't Procrastinate
Deadlines are only good if you keep them.  Stick to your deadlines.  Or, even better, try to beat them.
Only Keep What You Use
If an item has been sitting in the back of your closet for 3 years, it might be time to get rid of it.  Holding onto useless items just stimulates clutter and keeps you from truly maximizing the storage potential of your space.
Unfortunately, you can't just become an organized person overnight.  It will take commitment and dedication in the end, but if you can stick it out, you'll come out the other side feeling so much better about your closet, your home and your life.
Photo Credit: Stuart Miles