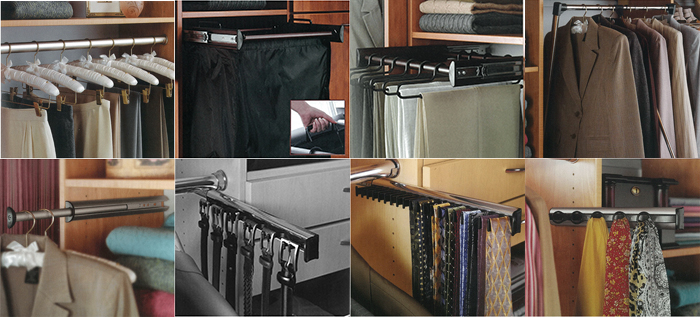 Now a closet at its bare minimum is really nothing more than a four-sided hole in the wall where you can put things, right?  But we don't just need a place to put things anymore now, do we?  We need organization!  We need storage options!  We need accessories!
When you get dressed in the morning, you don't just throw on a shirt and pants and say, "ok I'm set."   You have to put on a belt, jewelry, glasses, maybe a tie, grab your bag, your phone, and a variety of other accessories.
What makes your closet any different?
At Contempo Closet, we're pleased to offer a wide range of storage accessories to give you the organization and storage solution you need.   Choose from tie racks, belt racks, pneumatic pull down hangrods, extra shelves and more on our accessories page.
You don't need a hole in the wall.  You need a place to organize your life.  And Contempo Clost will help you find it!