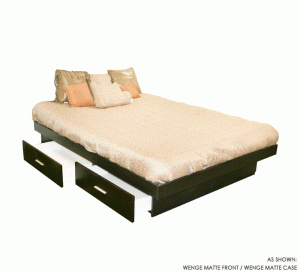 Downsizing and trying to save some space?  Let us make a suggestion: in addition to wardrobe, a dresser or a walk-in closet, why not consider sticking some extra storage space in an already essential piece of furniture, the bed?
Rooms are getting smaller and space is getting cramped, but that doesn't mean you have to start getting rid of clothing and valuables.  Instead, the spatial shift simply requires a rethinking of how you fill your furniture space.
Don't waste valuable storage space on a metal frame bed.  Try one of Contempo Closet's hand-crafted platform beds with drawers and extra storage space beneath the mattress and in the headboard.
Don't waste an in inch of space!  Add a little more storage to your bedroom solution and leave yourself with somewhere to walk.