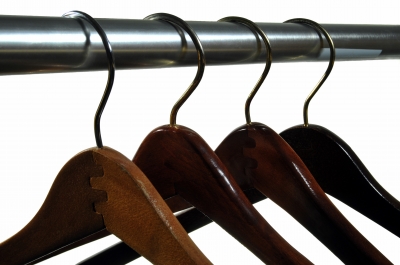 When you enter into a relationship with someone, you're committing to share.  Thoughts, feelings, affection, there's an insurmountable number of items – tangible and intangible – two people might share with one another.
How about the closet?  Space is running tight and although it may be tough at first, with a little time and patience you'll find that sharing a wardrobe closet is a cinch.
Here are a few tips to help you get started:
De-Clutter
If you don't need it, get rid of it.  This is no longer just your space, and a big part of sharing is having respect for someone else's.  Weed through your belongings regularly and get rid of anything that you don't use.  If you don't use it, but can't bear to part with it, consider storing the item in the attic or somewhere out of the way.
Organize Together
Start off organizing your shared space together.  This way you both understand the space, the needs of each individual, the limitations and the behavior necessary to maintain an orderly space.
Use Dividers
Shelves, drawers, baskets, anything that could be used to make a division, use it.  The key to this whole project is to create clear markers and an understanding of personal space.  If you have anything that can make the distinction any clearer, use it and label it.
Respect the Space
You have your space.  Your partner has their space.  Period.  Don't start encroaching on your partner's territory unless you want them to start invading yours.
Photo Credit: Carlos Porto