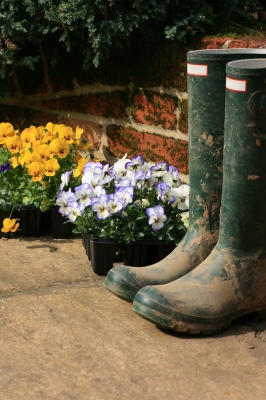 March is the season known to come in like a lion and head out like a lamb.  While we're still in the lion stages though, it's a good idea to start preparing for the lamb.  It's time to clean out the closet and get ready to bring on the spring!
Send most of your winter items – the wool hats, the fur coats, the snow boots – back to the attic, but keep a few things handy.  Scarves, sweaters, and light jackets may be necessary since the coming months will be warm during the day, but most likely chilly at night or early in the morning.  Be prepared and keep extra layers handy.
Sadly, in addition to the cold, get prepared for a lot of wet.  The coming months will be rainy, so keep an umbrella around, as well as water proof shoes and a raincoat.  A wide brimmed hat is not a bad idea either.
Also, put away the dark colors.  Spring is on its way, so be prepared to greet the flowers and the sunshine with bright colors and a bright attitude.
Of, course, that's a lot of storage and organization, isn't it?  Thankfully, here at Contempo Closet, we do storage and organization like there's nothing but tomorrow.  Check out our custom closet systems to find out how we can craft the best storage solution to fit your needs and lifestyle.
Photo Credit: Simon Howden