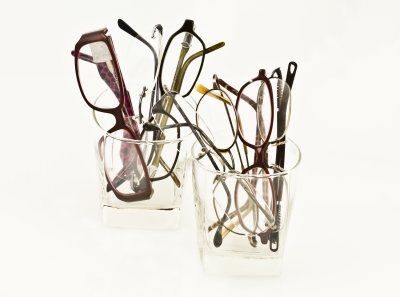 Keeping things like pants and shirts organized isn't always such a hassle.  They're big enough and usually varied enough that it's not too hard to say what goes with what.  Accessories such as scarves, glasses, hats, etc. can be a little more difficult.
These items are pretty small, so it's easy to mix them up in the morning.  Plus, they're secondary items anyway.  Leaving home without your glasses in the morning is far less inconvenient than leaving without your pants, right?
To help keep track of your accessories, try to find a way to keep them near items they match.  For example, if you have a particular pair of glasses that you like wearing with a certain shirt, why not keep the glasses in the pocket of said shirt?  Or if you like color coding hanging items, why not place items of matching or similar colors in little boxes or trays under their fabric counterparts?
Or if you've got the space, use a rack or tray to keep your accessories in full view.  Contempo Closet provides accessories for scarves and ties and some neat, little jewelry trays, too.  Small items can get misplaced easily, and we understand the importance of having them readily available on a rushed morning.
Do you have any special tips to organize your accessories?  Leave a comment and let us know.
Photo Credit: Maggie Smith